It's no secret that Joe Philbin is the worst coach in the NFL.  During Saturday's game at Carolina, he proved it once again.
Rather than than accept a second and goal from the Carolina 2-inch line, Philbin instead made a move to give the Panthers the ball at their own 20.
Philbin keeps his mouth shut, and the Dolphins go up 21-0.  Philbin tries to be cute, and we lose the game.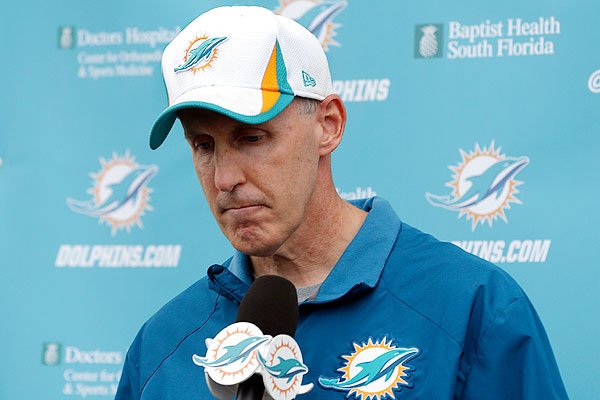 Sadly, his rationale had nothing to do with this being a meaningless scrimmage again; instead, Clueless Joe thought it was the right call.  Dolphin fans are very accustomed to this.  Carolina fans simply said thanks Joe.  It's not a horrible risk if you're trying to get the six points and it's 4th down.  You have nothing to lose.
But if Philbin didn't challenge, we had 2nd and inches…and more than likely get the six points anyway.
Even if you DO wanna consider a challenge, at least watch the replay BEFORE you throw the red flag.  BEFORE.   You can watch the play and watch Damien Williams obviously fumble the ball.  We all saw it.  Joey P didn't. We were about to get away with murder, because the refs didn't see the fumble.  But Joey decided to help the refs.
Philbin joked about his decision and said he has to learn from his mistakes.  But he never does.  Defensive timeouts.  Thinking Caleb Sturgis can hit 50+ yarders.   Calling pass plays on third and inches.  Philbin has made the same errors for years, and never learns.  And the saddest part is that Stephen Ross doesn't require him to learn.
Why should Joe Philbin learn basic football strategy when his boss gives him millions and millions of dollars, win or lose?
The funniest line of the weekend came from the Herald's Adam Beasly, who said Philbin's mistake was "out of character."   LMAO.
Apparently, Adam has never seen a Dolphin game.  Philbin mistakes are a dime a dozen…not out of character.  Dolphins Truth will pat itself on the back here for bringing our fans honest analysis.  The Herald writers just say nice things about Philbin.
Yeah, Adam.  Philbin is pretty much a perfect coach and this is his first mistake ever.  You just have to laugh at that nonsense.
A lot of writers and Dolfans are raving about the first-team offense.  Last week we got a touchdown.   This week we got two.
But there are major problems.   The O-line can't open up any run blocking.  Our backs are getting dumped for losses just as often as they gain.
Tannehill got nailed from behind and fumbled.
Matt Moore got nailed from behind and fumbled.
Tannehill's long passes still aren't accurate.
Both last week and this week, we only scored because the opponent defense gave us a free first down inside the five.  AND we had to go for it on 4th down.  Counting last week in Chicago and Saturday at Carolina, the first team offense ran 14 plays inside the 10 yardline and got only two touchdowns.  TDs are nice, but going for it on 4th down is not a realistic regular-season scenario.   If these games counted, Philbin kicks a field goal in both instances.
The turnovers are killing us.
Josh Freeman's interception is possibly the worst pass I've ever seen in my life.
The spread formations are getting far too frequent.  It won't take defensive coordinators long to counter it.
Long story short:  Our offense is not dominant, and its problems can't be hidden.
Our defense looks strong so far, but not dominant.  The secondary is banged up but still held its own. Jamar Taylor actually played well in my opinion, and I've been his biggest critic.  We'll monitor Taylor's injury and keep you posted.
I haven't seen any of the 2015 draft choices on either side of the ball do much of anything, and that could be troubling.   These kids have to be better than the guys they replaced, and I'm not seeing that yet.