It's remarkable to us at Dolphins Truth to read so many comments today in the media from Dolfans who want to dump Mike Wallace.
First of all, I can almost guarantee you that Mike Wallace did not quit on the team, although that story has yet to reach a truthful resolution, as there are different versions.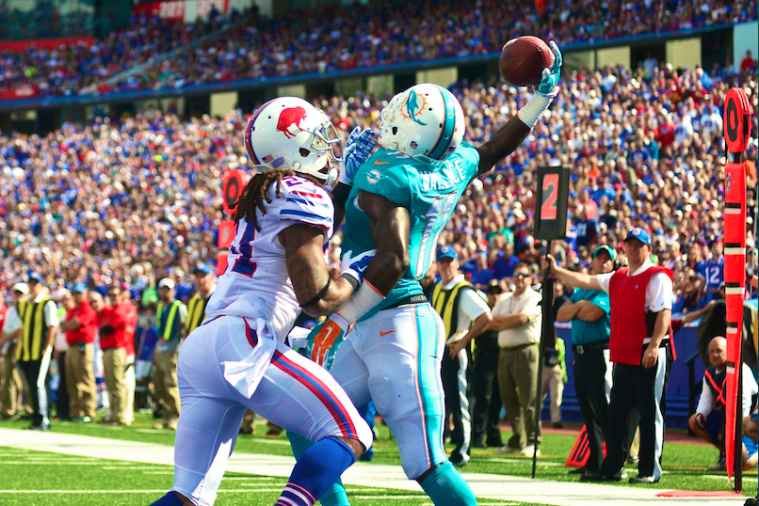 Secondly, haven't these fans learned their lesson about getting rid of our best players?  Joe Philbin kicked Reggie Bush aside, and Reggie went on to gain 1,000 yards for the Lions.  Philbin jettisoned Brandon Marshall right after he was named MVP of the All Star Game.   Philbin got rid of Vontae Davis for committing a penalty in a meaningless scrimmage game (fully documented by Hard Knocks), and Davis has been a Pro Bowler since.
Learn your lesson, Dolfans.  Don't get rid of players just because of some attitude.   A strong head coach must realize that not everyone is alike.  You can't continue to kick All Pros off your team .
Third, some Dolfans whine about Wallace's production.  But here is a summary of that production:
He had DOUBLE the touchdowns of any other Dolphin receiver.  Double.
He had more touchdown catches than Hartline, Gibson, Sims, Clay, Miller, and Rishard Matthews COMBINED.  His productivity exceeded an entire teamful of wide receivers.
Against New England, he made a spectacular one-handed TD grab right before halftime. The best Dolphin reception in years.
Against the Vikings a week later, he caught a deflected ball and dove to the pylon for another score.  These were freakishly good athletic catches that no other Dolphin has made since Jim Jensen gave up his body on every play for the good of the team.
Wallace also led the Dolphins in receiving yards this year.
Among our Wide Receivers who rushed the ball (on a reverse, for example), Wallace had the most yardage.
He has the most yardage per catch on the team as well.
The man led our offense in all of those important statistics, and some folks want to get rid of him?
Did Wallace drop a pass or two?  Yes.  Did he miss some blocks? Yup.  Was he lazy in some of his route running?  Probably.
But is he our best offensive player and virtually the only deep threat we've had since Brandon Marshall?  YES!
When you say we should get rid of Mike Wallace, you're really showing your ignorance.
Who cares what his salary is.  It's not your money. Relax.
Even with Wallace's salary, we are still well BELOW the cap, and we have plenty of money to sign other players.  Cutting Wallace will not save us much money, and it will make the team weaker.
We already have Philbin and Ross making our team weaker year after year.
We don't need to compound this by unloading our best player as well.