The anger of the last few days (weeks?) is subsiding,
It slowly fades into a numb, depressing sadness that only time will cure.
While other not-quite-good-enough teams like Miami (San Fran, Atlanta, Chicago, etc.) face the exciting proposition of a new coach coming to town, the Dolphins and their fans are faced with a bitter winter with no hope.
No hope.  No excitement. No competence.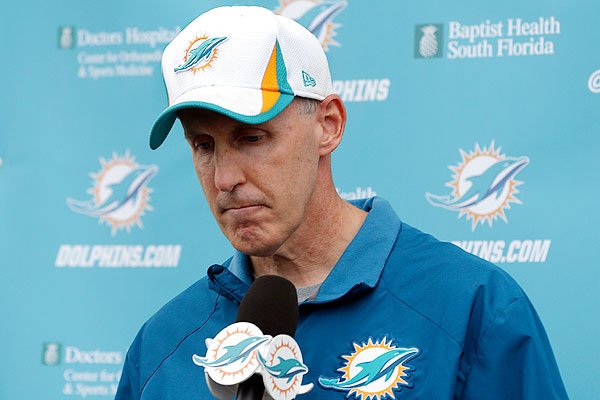 False hope is better than none.  If only Stephen Ross would have said "No comment" about Joe Philbin's future, then at least we'd have some hope of a new coach coming in.  A skilled, championship-caliber coach with a strong resume and experience as a team leader.
We get none of that.  Instead, Stephen Ross foisted Joe Philbin upon us for another year.
In a baffling move that leaves fans, NFL experts, players, journalists, and his fellow owners around the NFL dumbfounded, Stephen Ross decided to keep a coach with a losing record.
Ross gave a vote of confidence to a man who costs his team games.
Ross stuck us with an inept man who the players don't play for and who they have no faith in.  (sorry, but you need to read their body language and not listen to their rehearsed words).
Dolphins Truth was against the hiring of Joe Philbin from the beginning.  He had no leadership experience.  He'd never called a play.  He was never allowed to make a personnel decision in his entire career in college or pros.  Even when he was the Offensive Coordinator at Green Bay, his head coach would not allow him to call plays.  He was not involved in the Packers' drafts.
Whatever invisible skill set Stephen Ross saw in Philbin three years ago, still exists to this day.  It has to be something that only Ross can see.  Certainly no one else does.
I just don't want to believe that there is something else to this.
I won't believe that Ross is tanking the team on purpose.
I won't believe that Ross doesn't care.
I don't believe he wants to move us to England.
But if none of those theories are true, then what other answer are we left with?
The only other answer is that Ross has been brainwashed or duped by Philbin into thinking that Philbin is a good coach.  And that is something hard to believe too.  A man as smart as Ross does not become a successful billionaire by hiring unsuccessful and unskilled people.  But that is exactly what's happened here.
After three years, Joe Philbin STILL has a losing record and zero playoff appearances. But he has a job.  And now the depression and anger sink in again…
LIKE US on Facebook:  https://www.facebook.com/dolphinstruth