Lamar Miller is a fine running back, and we can begin with that.
However, he is far from elite.  He doesn't break tackles as often as other RBs.  He doesn't seem to run great pass routes when he's asked to do so.  I don't mean RB screen passes;  I mean passes more in the middle.   And although Miller is a 1,000 rusher and that is nothing to diminish, still a 1,000-yard-season means that he only needs to average 62 yards per game to hit a thousand yards.    If he didn't break that huge run in Week 17 vs. the Jets, we'd be talking about him as a 900+ yard rusher.  It was that close.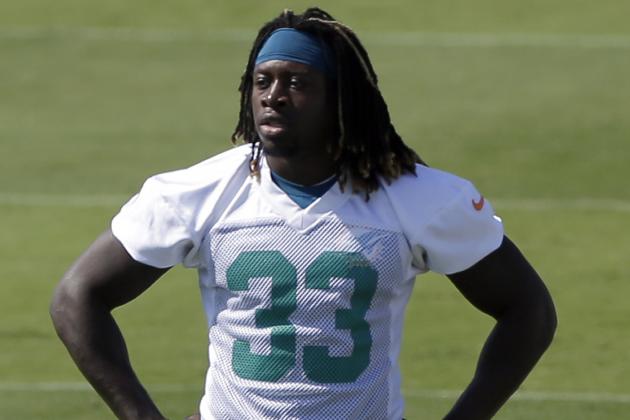 Daniel Thomas is a bigger, slower back, but I like the way he runs his pass patterns.  He doesn't knife through the holes in the offensive line as quickly as others, but he's been more or less reliable.
Knowshon Moreno was a project.  It worked for a week, then disappeared.   He excelled when he was in there, so I hope the Dolphin executives at least consider bringing him back.
I liked Mike Gillislee as a faster version of Miller, but his injury forced us to wait to see what, if anything, he brings to the table.
LaMichael James seemed to have a lot of time and opportunity last year to earn some playing time, but he didn't   That could be Joe Philbin's choice, or it could be James just didn't do enough to earn his time.  I do like this guy, and as he begins his first full year with the team, I hope he battles hard to show us what he's made of.
That brings us to rookie Jay Ajayi.   An interesting draft pick.  It could be an incredible pick.  We got Ajayi in the 5th round, and early mock drafts thought he could go much higher.  NFL teams avoided him due to his knee and other injury problems.  The Dolphins took a chance, and I'm glad they did.  This isn't a number 3 overall pick where the Dolphins should have done their homework.  It was only a fifth rounder, and worth the risk even if Ajayi doesn't pan out.  But I think he will.
What do you guys think of our running game?