A few random thoughts for us all to ponder…
A few days ago, the Dolphins announced that they'd be wearing their throwback uniforms from the 1960s.
The colors were aqua and orange, not stupid powder blue.  The Dolphin on the helmet was upright and majestic, proudly wearing his M helmet.    The Dolphin is in the middle of the sun, jumping in front of it.  (Trivia:   There used to be 2 teams whose logo included a helmet on their helmet.   The Dolphins were one, but now only one remains…?)
Since this was announced, nearly everyone has been talking about how great these uniforms are.  It makes you wonder why they were changed in the first place.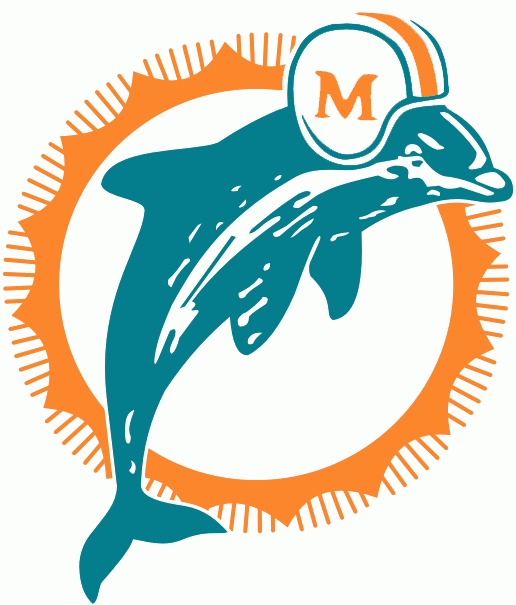 Note the Dolphin's face is in front of the sun now, not inside it.   This was the first change.   It wasn't a bad change, just slightly different.  Still a cool, colorful logo.
But then things got worse.  We went with a cartoonish Dolphin with far too much white in the belly and tail.   The aqua is noticeably darker.   It's just not as good as the previous versions.
Anyway, to reiterate my point, I hope Mr. Ross takes note of how awesome everyone thinks the throwback jerseys are.  Let's throw them back permanently.
Speaking of Mr. Ross, he was at camp today to kick off the practice season.   He said the same old things he's said for several years in a row now, including the reiteration of his faith in Clueless Joe.   That's sad.
He also said that he expects the Dolphins to win this year, which is something else he says every year.   Make no mistake, this team is solid and has a chance.  I think us fans sense it, and Mr. Ross knows it.  The question is how badly will Joe Philbin mess it up.
Mr. Ross also said he'd be more involved this year.   Personally, I think that's a good thing.  Maybe he'll put aside his many side ventures and stay focused on the Dolphins.  Stay focused on Philbin's performance.  Maybe he'll finally listen to virtually every expert out there who says that Philbin is in the bottom 5 coaches in the league.  Numerous experts, numerous polls, same results.  Everyone knows it except Stephen Ross.
Most pundits are saying that Philbin has to produce this year or he'll be fired.  I certainly hope so, but I am unconvinced.  If the owner thinks an 8-8 coach is good enough to give a raise and extension to, then there you have it.  He played his hand.   It's a fact:  Ross thinks that an 8-8 coach should be rewarded, not fired.
A lot of exciting rookies looked good at practice today, but again, that's the same thing we hear every year.   The excitement is sometimes justified, but it disappears very quickly when their skills don't add up to wins.   That's something we need to get much better at this year.
I hope Bill  Lazor is instilling an attack attitude from Day One this year.  40 points a game is the goal.  10 points a quarter.  We have to become obsessed with scoring and make it happen, not try to find ways to score.
And when we do score, the defense has to wake up.  The Denver game killed all the momentum and hope we had last year.  We had Manning beat, in Colorado, and let him back in.  Sucked the life out of our season.  We scored 35+ and LOST.   Can't happen again.
Note to Kong Suh:  when Joe Philbin signals for you to come out of the game, just pretend you didn't see/hear the signal.  Stay out there every single play.  Please.