4th and 10.  We had manhandled the Pack for 3 consecutive plays.  On 3rd down, we caused a fumble.  NOTHING was going Green Bay's way.  Nothing.
You saw Rodgers's face as he crawled up from the turf after Wake had leveled him.
The Packer receivers were gasping for air as they limped back to the line of scrimmage.  The Florida sun had wilted this team as badly as the Dolphins had.  The game was ours.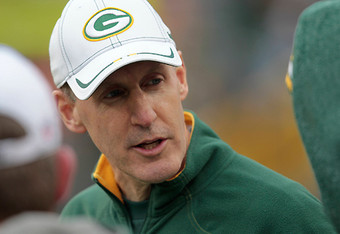 But then Joe Philbin allowed them to regroup.
He allowed his Packer friends to rest.
He allowed his boss, Mike McCarthy, to study our defensive personnel and call an adjusted play.
Joe Philbin didn't like to see the Packers gasping for air and desperately looking up at the scoreboard in mourning.
Philbin did not like that his defense had momentum.  He wanted to kill his own D's momentum apparently.
Philbin didn't think it was fair to make his Packer buddies have to hurry up.
So…after assessing all of that, clueless Joey Philbin called a timeout.
The Packers rested. Relaxed. Re-adjusted. And won.
Read Mike McCarthy's lips after the handshake.  Did he say, "Thanks for the free win, my friend" ??
As we said on Dolphins Truth on Day One, and as was proven today…there is a reason that Mike McCarthy never allowed Joe Philbin to call a single play in Green Bay.   He never let Philbin make a personnel decision.  Philbin was never once allowed to manage the clock.   He was kept away on draft days.
Now we know why.
Mike McCarthy worked with Philbin for many many years, day in day out.  McCarthy assessed him every single day and never thought enough of Philbin to give him any responsibility.
If your own boss knows you're not good enough to make decisions, why did Stephen Ross think he WAS good enough?  He is not.
This painful painful loss either shows Philbin is stupid, or else his loyalty is still to Green Bay.  There is no other possible excuse.