Mark your calendars for November 27.    That's the date when ungrateful spoiled punk Colin Kaepernick comes to town.  I suggest us fans all give him a warm Miami welcome.
But  I hope the Dolphins defense welcomes him even more.
I think pounding his head into the turf a few times would be a warm welcome, don't ya think?  That would definitely be worth a 15-yard penalty.  Or two.
And then, if he's dumb enough to get back up, then we can see how strong his oppressed knees are.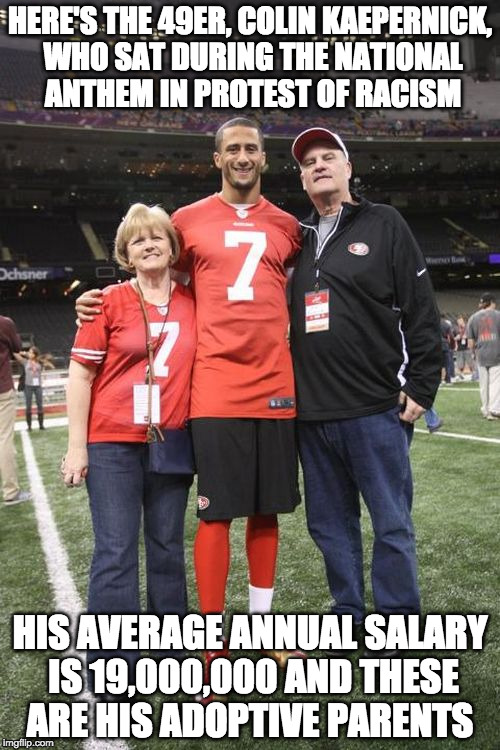 That being said, I doubt Kaepernick will be healthy come November 27.   Too many other teams (and his own teammates who now silently hate his guts) will have the chance first.   Some players may try to hide their cheap shots on Kaepernick.   Others will hit him blatantly without trying to hide it at all.   The refs may just look the other way on some of the shots too, and that will be a wonderful thing.
It's not so much that Colin is a rich, spoiled punk.   It's the hypocrisy involved.  Colin's birth mom is white, and his dad his black.   But the father ditched out as soon as the mom was pregnant.  Such a class act must run in the family.
So all alone now, and wanting her baby to have a chance, the birth mother gave the baby up for adoption to a loving white couple.  So 3 out of the 4 parents of Kaepernick were loving and white, and one was a black man who bailed.  Which parent did Kaepernick identify with?  Which did he defend?  The folks who loved and nurtured him, or the one that wanted nothing to do with him?
I can't believe this punk is spitting in the face of the 3 parents who loved and raised him, but that's exactly what he did.
If he hates American oppression so much, why doesn't he go play for NFL Europe?   Better yet, go play soccer.  Or anything.  Anything that will get him out of the country he hates so much.
What would keep such a nice young man living in a country that has abused him so awfully?   Why is he staying?  Ca-Ching!    He has 20 million reason a year to stay !