For the third year in a row, we're hearing all kinds of rumors about Dion Jordan moving to linebacker.
Yes, the Dolphins need a linebacker.  Yes, Dion Jordan has done absolutely nothing as a defensive end.  But, no, the Dolphins aren't moving him anywhere.
Head Coach Joe Philbin recently squashed all rumors when he determinedly stated that Dion Jordan would remain at defensive end.  This bothers some Dolfans, who want to see Jordan be given a fair chance at linebacker, especially given the need we have there.
There are two sides to this, and both are bad.
One, it's always a bad sign when a coach remains so blatantly stubborn when it comes to making changes.  Philbin is clearly the most anti-change coach in sports history.  He won't alter his decisions no matter how bad the team does.  He simply will not acknowledge his mistakes, and he certainly refuses to learn from those mistakes.  Philbin makes up his mind, and even though he is wrong, he sticks with it like a stubborn child.
It's fine if a proven, winning coach doesn't want to change.  But Philbin has a losing record and has accomplished nothing.  Shouldn't that plant the seeds in his head to try something different?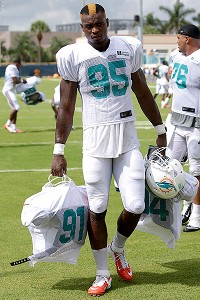 Two, Philbin is somewhat correct in this case.
Philbin is correct when he states that Dion Jordan is not a linebacker.  But the problem is, Dion Jordan is not a defensive end either.
He's a twice-suspended, overpaid benchwarmer who has a sack or two and a tipped punt in the last two years.
He is a bust.
When a player is bad, you get rid of him.  You don't automatically just say, "We have to try him in a new position."
Caleb Sturgis is a terrible kicker, but no one says that he will be great if you move him to linebacker.  So why do people think that Dion Jordan will magically become good if we move him to linebacker?
I understand that we can't cut Jordan, because that would be a huge embarrassment to have wasted a Number Three Overall pick on this guy.  Plus, New England would pick him up, and Belichick would turn him into an All Pro within a month or two.
So we really can't get rid of him, but he's not good enough to keep.  What the heck do we do?